Expired!
This offer has expired.
Coupon Details
Nearbuy Paytm Offer : Nearbuy is giving Rs 1100 cashback in your Paytm wallet when you buy this deal from Nearbuy. This deal was earlier called as the Groupon Paytm Offer. Now Groupon had been evolved into Nearbuy adnshifted their all deals to Nearbuy. This Deal is priced at Rs 1001 when you buy this deal using your Paytm Wallet. You will receive Rs 1100 Cashback in Your Paytm Wallet within 3 working Days. Grab this deal before it expire.
This Nearbuy Paytm voucher will give you cashback of Rs 1100 within 3 days of its purchase. You will get Paytm cashback upon the purchase of this Nearbuy Deals.
You can Check these Posts for Best Deals and Nearbuy Coupons
Nearbuy Paytm Offer – Pay Rs 1001 and get Rs 1100 Paytm Cashback [one time only].
 [Ended Now]
How to Grab Nearbuy Paytm Offer
1. Go to Nearbuy Paytm Offer  Page Click Here  .
2. Add product in your cart.
3. Select your address, mobile number etc and proceed to checkout.
4. Complete the payment using Paytm wallet only
5. Your cashback of Rs 1100 will be credited into your account after 3 days.
Terms and Conditions
1. You cannot apply any Discount voucher to this deal.
2. Your cashback will be credited only to that account to which you are paying with.
3. Valid for only once per user.
4. Use only Paytm Wallet to Pay this amount otherwise You will not get the cashback.
5. Valid till 21.02.2016.
If you had not got your cashback till now. Don't worry it would be soon credited into your account within 5 days of your transaction.
Also Check
Previous Offers
Groupon Paytm Offer : Groupon is giving Rs 1100 cashback in your paytm wallet when you buy this deal from groupon.
Extra 15% groupon offer is only valid for transaction made in 15 June 2015 to 21 June 2015. Click here to avail the groupon credits
Claim Rs 75 Groupon Credits
Go to this Link Rs 75 groupon Credits
Enter your groupon id and your order details.
Refer to your voucher to know security code and groupon code .
Groupon credits will be credited on first week of July.
These Credits would be valid till 10 Oct 2015.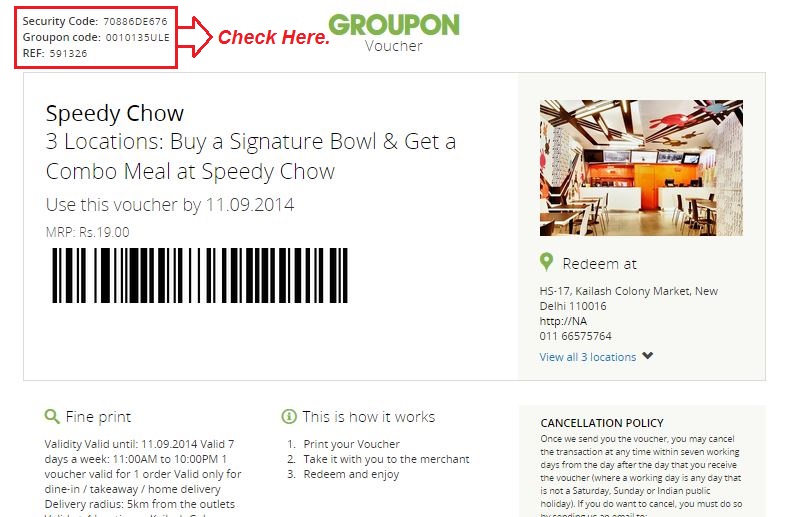 Pay Rs 501 and get Rs 550 Paytm Cashback [one time only].
(Visited 4,788 times, 1 visits today)